badbadzoot's Diaryland Diary
-----------------------------------------------------------------------------------------
pictures pictures and more pictures
heheh.
so maybe I should have put a better disclaimer on my last entry about Mr. B's smoking and junk.....
I have no problems with people giving me their opinions and views and such. No problems whatsoever!!
BUT!!
I do have problems with people who are hostile about it.
I am very capable of having a civil argument or conversation or what-have-you.
But if you come at me with daggers in your hands, I'm gonna scratch your eyes out.
Even if you are 80 years old and blind.... ;-)
So please don't be afraid to speak your mind to me, I want to hear your opinion, just do it nicely!!
Thank you!
Now since you all are so very patient with my ramblings and kind in your advice, I have a special surprise for you! Well, it's not so much a surprise because I kind of gave it away yesterday...
I HAVE PICTURES!!!
YAYYYYY!!!!
If that sort of thing excites you...
Mind you- they are not those kinds of pictures....
Everyone has their clothes on.
kind of.
tee hee.
FOOL YOU!!!
All right! So! These pictures are from friggin EASTER MAN!!!! Almost a MONTH ago! And I just NOW got them DEVELOPED!! I'm such a freaking procrastinator.
Hopefully they don't come out too big, because I don't feel like resizing them, again.
(side note: I described the pictures underneath them....)
FIRST!
nextly-


my Little Bro's NEW SA-WEET CAR! VA-ROOOOM!! It's a 2003 Acura-whatever, 6 speed!!! MAN DOES THAT THING MOVE!!! He let me drive it. OMIGOSH I WANT ONE I WANT ONE I WANT ONE. It was weird for a nano-second because the gear box is a short box, but I got used to it pretty quick. Boy was that fun....
thirdly-


My Little Bro and two nieces, the girl in the middle is the nieces friend... don't think about it boys, they're under age....


Mr. B and Little Bro and Older Bro trying to look tough, it ain't workin' though...


here's a tough guy picture for ya! ha ha! Older Bro with Wild Thang's (4 year old foster sister) headband.


me just this past weekend (we had to use up the roll!)


Mr. B with a haircut, FINALLY!!! I like him with short hair. He was trying to grow it out, but I dunno. Sorry to dissappoint you smasher-bad-ass-rocker... Mr. B has failed as a bad ass rockstar!!!
Now for some wedding dresses, you can kind of tell, but not really....


the top is a cowel neck, and it has some beading up top there to make me look like I *ahem* have "more".... haha!


the back of the same dress... it has some beading back there too, nevermind the bra showing... it won't be there...
and this other dress I like too, and nevermind the nasty scowl I have on my face!!! I really do like the dress!!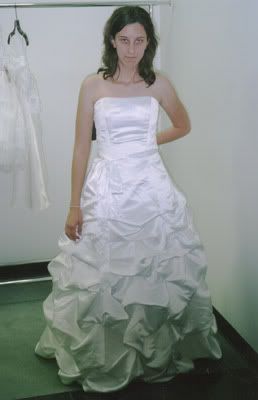 And fortunately I WILL be wearing make up on that special day so I won't scare everyone with my under eye cirlces and blotchy face... blah.
that's all I gots fer ya today kids...
see you all tomorrooooowwww
RANDOM FACT ABOUT ZOOT:
Please don't feed the witch inside me... ;-)
3:23 p.m. - 2006-05-09

-----------------------------------------------------------------------------------------