badbadzoot's Diaryland Diary
-----------------------------------------------------------------------------------------
do the dang dishes already!
here I go again on my own...
goin' down the only road I've ever knooown...
like a hobo I was born to walk alone...
"hobo"?
for real?
it doesn't sound like he says "hobo"....
anyways.
I've got a friggin "A" for my 2nd week of online classes! whoppeee! These online classes are kind of weird, in that I get a grade report after every week ends. And these classes are only six weeks long. The first week I got a B+. Second week A!! I have no idea what my campus class is right now. I'm sure it's floating near an A. At mid-term it was B+. I plan on raising that to an A also. yeah baby.
I made Mr. B do the dishes today. And I feel bad for nagging him. But there has been a pile of dishes in the sink for four days and I didn't touch them because I always end up doing the dishes. He will just wash what he needs at the time. And I hoped he would have done them earlier since he's basically on part-time hours and doesn't go into work during the week until 3pm. Whereas I get up at about 5:30am, drive an hour to work, leave work at 5:15pm and there goes another hour driving home and it's past 6pm when I get home and I don't want to do anything, even though I tell myself "gosh Zoot, you need to do those dishes", or "you need to clean the litter box", or "you need to iron some shirts". I plop down on the couch and start watching the Food Network, then I fall asleep and Mr. B wakes me up when he gets home at 9pm. Then it's time for bed so I can try to get 8 hours of sleep- which I usually don't, because I wake up a gajillion times during the night. So I wake up tired. And I need to get on with what I was talking about in the freaking beginning of this paragraph...
Mr. B's lazy butt gets up about 8am, goes downstairs, has some breakfast, watches TV, takes a nap, plays some video games, goes to work. On Saturdays I do my best to tidy up the house. The least I want from him is to do the dishes. Is that asking too much?
So I got on him last night, I tried to playfully hint about what he was doing all day, because I knew it was nothing, and if he could guess that I wanted him to do the dishes. He guessed correctly alright. And I felt bad because I felt like I was nagging and I don't want to be a nag.
So he did them today, first thing.
gggrrrrrr....
Don't make me out to be the bad guy!!!! I know I don't do much at work, as a matter of fact, I've got a huge ad I need to go do right now, but this is more important. :)
But after an hour's drive home through rush hour traffic, I don't want to do much but just relax. Ugh, and I just remembered I need to get cat food before going home. Because Mr. Kitters wants his dinner as soon as I step in the doorway, and he won't take no for an answer. He will literally follow me around and meow. Just cry his little heart out. And when I look down at him, he scampers towards the cupboard door where I keep his food. Butthead. And when I have to really really really go pee first, he will stand outside the dorr and cry and stick his little paws underneath. What a freak.
My mother commissioned me to make an invitation for my stepfather surprise retirement/birthday party. And it came out quite good to if I may say so myself. I will show you even! I've changed info for obvious reasons. There are some crazies out in internet world....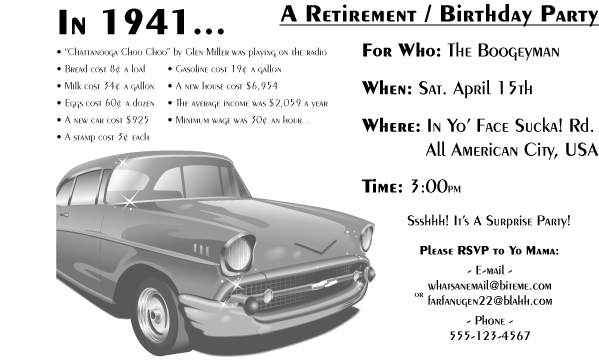 ta da!
and just for kicks, here's a project I had to do for Art History, take a photograph that applies Realism philosophies and it had to be about my life....
jolly good fun.
warcrygirl mailed out my button the other day! whoooppeeeee!!!! Thanks again for helping me to wiiiinnn!! I love you all lotsly!!!!!
RANDOM FACT ABOUT ZOOT:
I have psychopathic tendencies... but only when it involves me driving....
1:29 p.m. - 2006-03-03

-----------------------------------------------------------------------------------------