badbadzoot's Diaryland Diary
-----------------------------------------------------------------------------------------
so you've waited long enough, here it is...
okay.
so.

I really don't know where to start, or what to say.
Sure marriage is a bumpy ride. It's like being on a roller coaster, up and down and up and down and a loop-de-loop.
Ya know, "The Simpsons" are pretty darn funny, but I'm very happy that I'm not married to a "Homer". I would kill him. Kill. Him. Dead.
So what did Mr. B do to break my little ol' heart.... And the following may stir some feelings, but, whatever.
I may have mentioned before that Mr. B is a porn guy. And we've had a problem before with his indulgences. The big problem is his need to chat online. Looking at nekkid titties- I can deal with that. Talking to these not-so-good-looking-saggy-boobied-girls? I don't think so.
My cats just stunk up the cat box. Jeez Louise they stink.
So Mr. B had a relapse.
This isn't just something that will go away, I am very well aware of that. Mr. B on the other hand just thinks these feelings will just go away and everything will be just perfect. AND! The silly boy seems to think he can hide things from me! Pish posh! Silly, silly boy. I'm a woman. I KNOW EVERYTHING.
When he is indulging himself his entire mood and personality changes. I live with the boy, I know when his mood is a-changin'. I noticed something was afoot weeks ago, but did not find the evidence, until he slipped up a few days ago and forgot to clear the history on the web browser.
For shame!
Okay, if you're a single dude, or a dude who is playing around, look at porn all you want. I don't care. I don't care even if you are married- as long as you're not married to me- I don't have a problem with it. I have a problem with my husband looking at other women and talking to them. For pete's sake he made a profile on a chat website and was talking in a room titled "MarriedNLonely".
WHAT THE HELLLLLLLLLLLLLL.
So I did the sensible thing and cursed a whole heck of a lot when I "stumbled" upon these websites. Then I told him how I really felt. I'm petrified that in these chat rooms or whatever he'll have an affair and leave me. Well that got to him real good and he felt so stinking guilty and was apologizing left and right and hating on himself. I told him not to hate himself because, sheesh, he's a guy. But jeez if he needs some just come get me!
Don't get me wrong, I love my husband very much, even though he likes to look at nasty whores online and talk dirty to them... everyone has flaws.
Mine is that I'm perfect (ha ha ha).
So we are working on it. Trying to make ourselves better and move forward from this.
It's all good. With God all things are possible. Whether you believe it or not. So nyah.
HEY!!!
I have some pictures of the New Kitters!
I just gotta go resize them real quick-like.
These aren't the greatest, some artsy-fartsy shots I took with my friend's digital camera....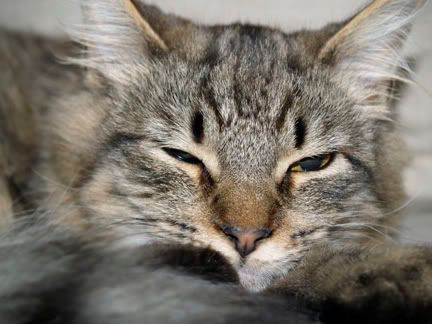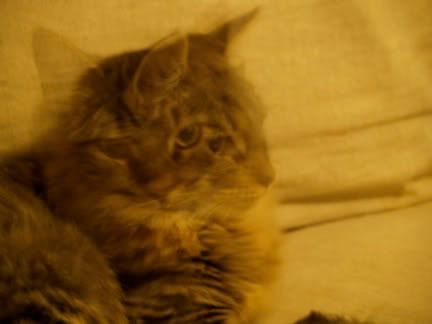 so there.
That's all folks!
And thanks for being so supportive and concerned, you guys are one in a million!!! (was that too mushy or just right!?!?)
RANDOM FACT ABOUT ZOOT:
I have little red blood spots on my back... they're not blood blisters, and they won't pop. It's very weird.
11:01 p.m. - 2007-03-08

-----------------------------------------------------------------------------------------