badbadzoot's Diaryland Diary
-----------------------------------------------------------------------------------------
keepin' it real, fo shizzlessss
okay, so like I need to write in this thing more often.
at the moment there is a kitten (or immensely fat kitten/cat) on my lap twisting all around like a crazy person.... oh he just fell off. good riddance!
nothing insanely new in my life at the moment, just sitting here acting all pregnant and stuff....
I've been extremely tired lately, not really having to deal with morning sickness (which is a total blessing). I only get nauseus when I don't eat, and I haven't vomited once (only dry-heaved, boy THAT was annoying, cuz when you dry-heave you're all like, "C'MON! LETS BLOW CHUNKS ALREADY!!!" but nuthin' is coming out and its totally aggravating...)
I've been really trying to watch what I eat, trying to limit the "processed foods" and eat more fruits and veggies..... so far almost so good. I've gotten to the point where if I eat processed foods it makes me sick, so its easy to stay away from that. But the whole "let's eat our fruits and veggies!!!" is REALLY HARRRRRRD. My stepsister tried to introduce me to JUICING! You know, when you stick anything and everything into a juicer and it comes out all liquified and a really nasty color?!! The only problem is I would actually have to BUY A JUICER.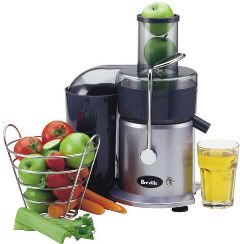 You too can own a juicer made by that really old guy who is as fit as Mike Tyson on a good day for just FIVE payments of $29.99 USD!!!
I don't think so.
I can just see it now.... building my credit back up by purchasing a juicer.
But enough about that.
OH, and I'm debating whether or not to tell you... but we're all friends here right?!? Its okay to trust you with something so personal that its really upsetting to me, right?!?!?
Welllll, I was hoping that being pregnant would *ahem* increase my mood for the horizontal mambo. Buuuuut it has had the opposite affect.
Stop laughing!
Maybe that will change in the next trimester. I feel kind of bad for Mr. B, but you know, being tired all the time, having to pee constantly, and being nauseus doesn't exactly put me in the mood for romance.
meh. that's what toys are for, right?
*awkward silence*
OKAY LETS MOVE ON!
ya know, I really can't stay long, I have things to type up for Foster Care purposes and thats how we gets PAID, and uh, we's needs to gets PAIDSSSSS. (whatever that was...)
don't worry, I won't be out for too long!!! I misses yous all!
RANDOM FACT ABOUT ZOOT:
my baby is now "a raspberry with fins" according to W3bMD. My little raspberry!
10:58 a.m. - 2008-04-11

-----------------------------------------------------------------------------------------